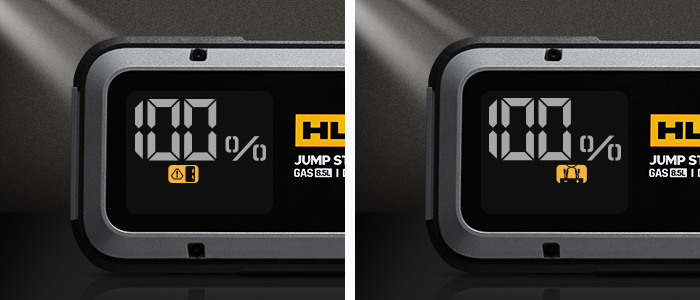 Note:Due to different versions, when you connect the clamps to the car battery reversely, the screen will either shows an "Error Code 1" or "Error Code

".
This indicates that the "+" and "-" poles of the battery clamps are reversed in the car.
HULKMAN products feature multiple advanced safety technologies, including reverse-polarity protection. It can detect a reverse attachment to your car battery automatically. If you reverse the polarity of the clamps, it will display the "Error Code 1/Error Code ''

" message as the above picture revealed.
If the screen shows "Error Code 1," please follow these 3 steps:
Step 1: Take off and exchange the clamps. Recheck your car battery terminals: the red clamps connect to "+" and the black clamps to "-";
Step 2: The screen will display the "READY" icon, following which you can go back to start your engine ignition.
Step 3: Remove the clamps from the car battery.
If you still require assistance, please contact us:
If you have checked the connection, there is no Error Code on the screen, and you still can't start your vehicle with our product at over 80% battery power, please contact our customer support at service@hulkman.com with the following information:
Order number
The serial number of your product (Where can I find the serial number?)
Your vehicle model
Any images or videos for proof of the issue
Our agent will help you troubleshoot your issues, with the guarantee of an exemplary experience.