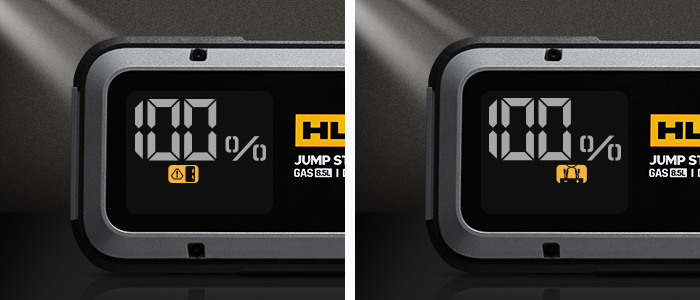 Note: due to different version, when you connect the clamps to the car battery reversely, the screen will either shows an 'Error Code 1' or 'Error Code

'.
It means car "+" and "-" poles of battery clamps reversed
HULKMAN products feature multiple advanced safety technologies, including reverse-polarity protection. It could detect a reverse attachment to your car battery automatically. If you reverse the polarity of the clamps, it would show the 'Error Code 1/Error Code '

' as above picture showed.
If the screen shows 'Error Code 1', please follow these 3 steps:
Step 1: Take off and exchange the clamps. Recheck your car battery terminals: the red clamps to "+", and the black clamps to "-";
Step 2: The screen will show 'READY' icon. Then you can go back to start your engine ignition.
Step 3: Remove the clamps from the car battery.
If you still need assistance, please contact us:
If you have checked the connection, there is no Error Code on the screen and you still can't start your vehicle with our product over 80% battery power. Please contact our customer support at service@hulkman.com with the following information:
Order Number

The serial number of your product Where can I find the serial number?

Your vehicle model.

Any images or videos about the quality problems
Our agent will help you troubleshoot your issues, delivering you a satisfactory experience.