Answer:
No, we don't have a SAE type connector. Please connect the clamps to the battery directly.
What kinds of vehicles our product are designed for:
Alpha 85/85S is designed for the displacement of regular gas engines up to 8.5L and that of diesel engines up to 6.0L.
The Alpha 100 is used for gas engines up to 10.0L and diesel engines up to 10.0L.
Answer: Check your engine displacement and the ignition system. As long as the vehicle has a 12V ignition system and its displacement is not higher than the standard mentioned above, our jump starter will work.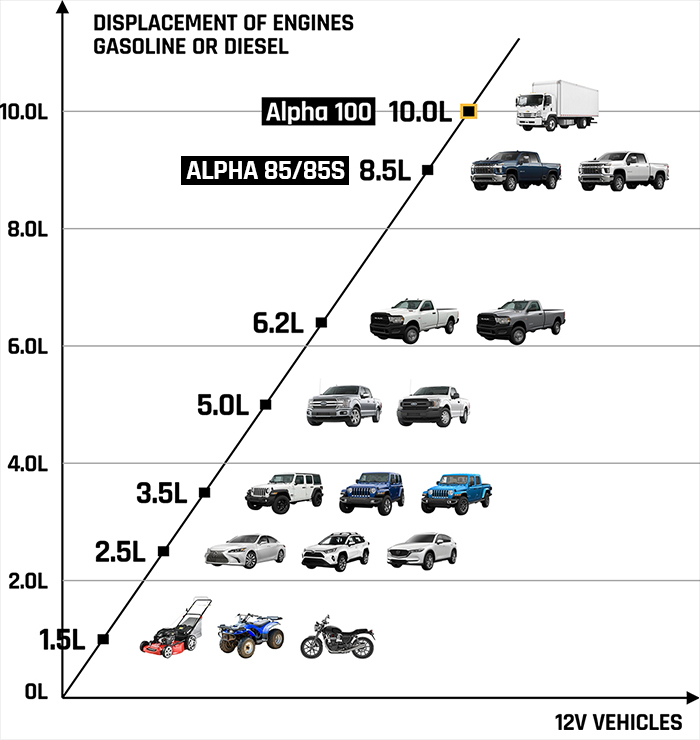 8.5L (Ford F-Series, medium duty truck)
6.2L (Chevrolet Corvette / Dodge Challenger SRT Hellcat)
5.0L (Ford Mustang GT / Bullitt)
3.5L (Ford-150 / Honda Accord V6)
2.5L (Toyota Camry / Mazda CX-9)
Note:
It can also jump start motorcycles, trucks, tractors, as long as they have 12V ignition systems.