Answer:
The HULKMAN Sigma 1 is a multi-mode battery charger with probably the largest display screen and the most user-friendly interaction on the market.
Please follow the instructions given below to select the appropriate charging mode for the most efficient charging of your battery: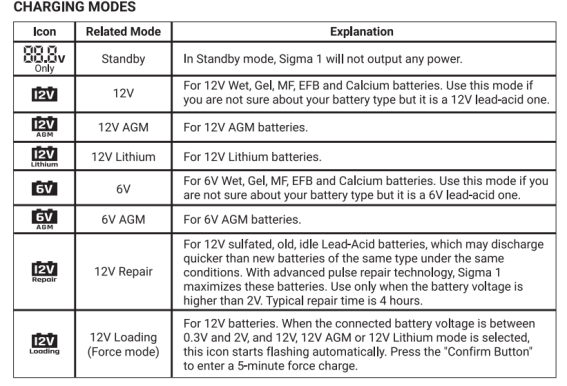 About how to charge your battery with Sigma 1 battery charger, please check this link: Charge your battery with Sigma 1 battery charger
Note:
1)Please check your battery specifications before charging. The specifications generally appear on the parameter label on the battery.
2)The Sigma 1 battery charger features the Multi-Mode Memory function: It can automatically revert to the charging mode before disconnection or when it is reconnected after disconnection.